Special Evening with Filmoteka Narodowa
85'
Special Evening with Filmoteka Narodowa. Celebration of one hundred years of Polish film: Polish silent films accompanied by a chamber orchestra conducted by the composer Rafał Rozmus.
subtitles: no dialogs
Silent Films
The Market Square
Films description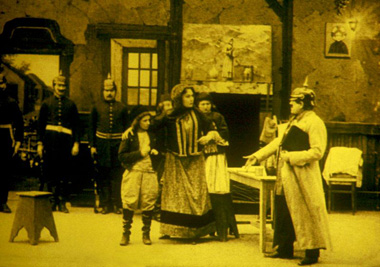 Prussian Culture
Pruska kultura
Poland, France 1908 / 8'
| | |
| --- | --- |
| producer: | Mordechaj Mordka Towbin |
| production: | Siła-kino |
| sales: | Filmoteka Narodowa |
| language: | no dialogue |
The film is a feature-style acting documentary about the Prussian methods of fighting the Polish character. A complete copy of the film was found in 2000 by professors Małgorzata and Marek Hendrykowski in the French film archive in Bois d'Arcy. The film was probably made by the energetic distributor and producer Mojżesz Towbin. In those times copies rarely included information about the film's creators.
In the book published by Filmoteka Narodowa entitled Kino okresu wielkiego niemowy the professors wrote: When was the film made? There are many indications that it was produced at the turn of 1907 and 1908. Towbin hired 'a cinematographer from a Parisian company' as early as in December 1907. The cinematographer participated then in the making of Widoki miasta Warszawy.The next images (probably shot by Meyer or Tiberville) were screened as early as in March 1908. By May 1908 the film we know as Prussian Culture had already been screened in Moscow. No matter whether it was made at the end of 1907 or at the beginning of 1908, the film is undoubtedly at least half a year older than the comedy Antoś pierwszy raz w Warszawie (which premiered on 22 October 1908), previously believed to be the first Polish feature film.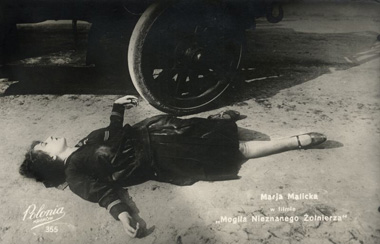 Tomb of the Unknown Soldier
Mogiła nieznanego żołnierza
Poland 1927 / 77'
| | |
| --- | --- |
| director: | Ryszard Ordyński |
| screenplay: | Ryszard Ordyński, Seweryn Romin |
| cinematography: | Antoni Wawrzyniak |
| cast: | Jerzy Leszczyński, Maria Malicka, Nina Olida, Konstancja Bednarzewska, Maria Gorczyńska, Leokadia Pancewiczowi, Władysław Walter, Jerzy Marr |
| production: | Star-Film |
| sales: | Filmoteka Narodowa |
| language: | no dialogue |
After the outbreak of the war against Bolshevik Russia, captain Łazowski goes to fight, leaving his loving wife and daughter behind. He is captured by the Russians. He experiences many adventures and manages to escape various dangers, before he finally escapes to Poland. When he crosses the border and returns to his homeland, happy with the vision of homecoming, he is accidentally shot dead. When Łazowski dies, his daughter feels - as was written in the pre-war advertisement of the film - that the vision of her father fades and disperses. And somewhere far, far away, amidst the fields of impeccable white snow, there is a hidden tomb of the unknown soldier. The film is notable for its rich historical and social background.

Rafał Rozmus
Graduated from the 1st and 2nd grade Karol Lipiński Music School in Lublin, where his specialisation was violin. He graduated from the Institute of Music at the Faculty of Arts of the Maria Curie-Skłodowska University with an honourable mention. He studied conducting and composition, orchestration and instrumentation. In 2001 together with Zofia Bernatowicz he established the vocal and instrumental group Presto, specialising in world premieres and performances of Rozmus's own compositions. Rafał Rozmus also developed the numerical method of twelve-note composition (2002). The versatile musician composes vocal music, vocal and instrumental music, instrumental music, both symphonic and chamber works, he composes for children, he is involved in orchestration (e.g. works for the Pan flute and symphonic orchestra by Dima Chaaback) and he composes theatre and film music, too.
elaboration: Grażyna Grabowska
Navigator
July-August 2009
Search
for film / director / concert:
Go to the cycle:
SELECT A SECTION