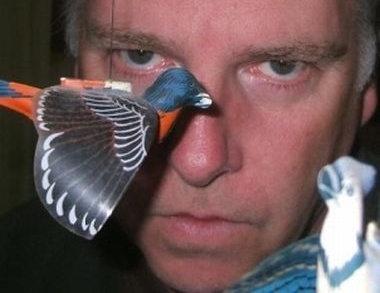 Guy Maddin
Canadian director and screenwriter, has made 25 short and feature-length films over the past twenty years. His works are stylised as films at the turn of the 1920s and 1930s. He is fascinated with silent cinema and part-talkies, his art is inspired by the aesthetics of German expressionism, surrealism, Soviet propaganda films, and the first Technicolor films.
Maddin's films are mostly shot "indoors", artificial decorations on black and white 16-mm tape (distinctly grainy, with flaws and impurities). Each film is a specific catalogue of obsessions both in aesthetics and plots (love triangles, pathological jealousy, sexual transgressions, amnesia and amputations).
Maddin was born in 1956 in Winnipeg, where he grew up with his three siblings (sister Janet and brothers Ross and Cameron) at 800 Ellis Avenue, in an upstairs room above a beauty parlour managed by Guy's mother Herdis Maddin and her sister Lil. Guy Maddin studied economy, painted houses, worked at a bank and at a photo archive. And yet his passion was watching films with his friends and all-night discussions. Together with John Harvie and Ian Handford he established Extra Large Productions.
In 1982 Maddin started working on his first film The Dead Father. The work, planned for a couple of days, took three years. Even this first work by Maddin foreshadows the themes he would focus on in all his films. The next piece by Maddin, Tales from the Gimli Hospital (1988), a surreal black grotesque based on chronicles of the local community of immigrants from Iceland, was appreciated at the famous "midnight movies" organised by Ben Barenholtz in New York.
In 1995, after Archangel (1990) and Careful (1992) which were artistic successes and earned the director a faithful audience and critics' recognition, Maddin became the youngest ever winner of the Medal for Life Time Achievement of the Telluride festival.
After waiving the project of Dikemaster's Daughter, which was not completed for financial reasons, Maddin worked on some smaller film concepts (including The Eye Like a Strange Balloon). In 1997 he made his most expensive film so far: Twilight of the Ice Nymphs (1997). The higher budget, cooperation with a professional crew and actors did not help Maddin: Twilight of the Ice Nymphs marked the beginning of several years of artistic crisis, which only ended with the short film The Heart of the World (2000), recognised as the most important event of the 25th festival in Toronto.
The Heart of the World was a turning point in Maddin's art, or rather a dramatic acceleration: more dynamic editing and camera motion. Some have described this frenzied feature-compressed-into-a-short as a call to arms meant to topple the complaisantly flaccid cinema of today, a plea to reinvent movies from scratch (…) Maybe Guy Maddin, that great lava-sprite, has been expressing all these impassioned sentiments since the very beginning of his career. Who am I to say? - Maddin wrote about The Heart of the World (2000) in a joking self-review published in the Village Voice.
Maddin's next film was planned as a series of installations (initially planned to be one minute each), commissioned by the Power Plant gallery in Toronto, but it grew into a full-length film. Cowards Bend the Knee or The Blue Hands (2003) is the first part of a so-called autobiographic trilogy. For the first time, the main character has the director's name and references to Maddin's childhood and youth are even more distinctive than in his earlier works. The same goes for Brand Upon the Brain! (2006) and for the docu-fantasy about his hometown My Winnipeg (2007). Maddin's output includes more than ten short films (including The Heart of the World) which are treated by the director as equally important as full-length projects.

Filmography

1986 The Dead Father (short)
1988 Tales from the Gimli Hospital
1990 Archangel
1992 Careful
1995 The Eye, Like a Strange Balloon (short)
1996 Sissy-Boy-Slap-Party (short)
1997 Twilight of the Ice Nymphs
1999 Hospital Fragments (short)
2000 The Heart of the World (short)
2000 Fleshpots of Antiquity (short)
2000 Zookeeper Workbook
2000 Rooster Workbook
2001 Dracula: Pages from a Virgin's Diary
2002 Fancy, Fancy Being Rich (short)
2003 Coward Bend the Knee
2003 The Saddest Music in the World
2004 A Trip to the Orphanage (short)
2004 Sorrowful Shadow (short)
2005 Fuseboy
2005 My Dad is 100 Years Old (short)
2006 Brand Upon the Brain
2006 Nude Caboose (short)
2007 Odin's Shield Maiden (short)
2007 My Winnipeg
2008 Footseps (short)
2008 Spanky: To the Pier and Beck (short)
2009 Send Me to the 'Lectric Chair (short)