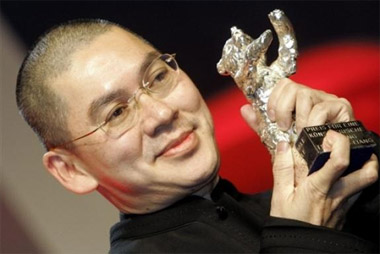 Tsai Ming - Liang
Was born in 1957 in Kuching, Malaysia. At the age of 20 he moved to Taipei in Taiwan and he started studying film at the Chinese Culture University of Taiwan. Here, he learned about the art of European auteurs, who influenced his style and artistic choices in a special way: François Truffaut, Michelangelo Antonioni, Rainer Werner Fassbinder and Robert Bresson.
After his graduation in 1982, Tsai worked in theatres – as a producer and playwright, but director as well. It was also then that he started writing film and TV screenplays. Some of them he directed himself, creating such works as All the Corners of the World and Boys (Xiao hai), the first film starring Lee Kang-sheng who would later appear in almost all films by Tsai.
In 1992 Tsai Ming-liang made his first full-length film – The Rebels of the Neon God (Qing shao nian nuo zha). In this film one can find characters who would recur in Tsai's later productions, but also the crystallised original style of images and narrative, which would become the director's hallmark. Although each film is an independent, complete piece, in a way each is a sequel to the previous one.
In 1994 Tsai made the poignant Vive l'amour (Ai qing wan sui) - like in Rebels... the main issue is the characters' alienation, inability to communicate and loneliness in a huge, terrifying city. In 1997, in The River (He liu), the director returns to the concept of a dysfunctional nuclear family, which had been explored in his feature debut. One year later, he directed the ironic The Hole (Dong): for the first time Tsai applied a specific strategy of rough realism and minimalism with musical elements as counterpoints. In 2001, the director made What Time Is It Over There? (Ni na bian ji dian), once again returning to the characters of Rebels and paying homage to the French New Wave by including frames from François Truffaut's The 400 Blows (Les quatre cents coups) in his film. And two years later, in Good Bye, Dragon Inn (Bu san), he expressed his respect for Chinese cinematography in a portrait of the passing cinema and classical, impressive films. This work and Lee Kang-sheng's original film The Missing (Bu jian)form a diptych. In The Wayward Cloud (Tian bian yi duo yun, 2005), the most controversial film by Tsai, the director addresses the problem of the essence of pornography in a very radical and straightforward way. Once again, the naturalist, brutal realism is combined with a colourful bravado of musicals. In 2006, the artists returned to his homeland Malaysia to make I Don't Want to Sleep Alone (Hei yan quan). The latest full-length film by Tsai Ming-liang is Visages, shot in the Louvre in Paris and focuses on the myth about Salome. The director also created short story-style films - among the projects he participated in, one can mention Welcome to São Paulo (Bem-Vindo a São Paulo) of 2004 (segment Aquarium) and To Each His Own Cinema (Chacun son cinéma) of 2007 (segment It's a Dream).
Tsai Ming-liang is one of the most celebrated Vietnamese directors and surely the one most often awarded. He is called a representative of the Second New Wave in cinematography. He creates independent cinema with its specific original style and atmosphere, filled with recurring motifs, obsessively replicated and forever altered plots, both dark and fascinating. His films are all intertwined, therefore his work can be seen as one, coherent and hypnotic creation. He was awarded the Golden Lion at the Venice FF for the Vive l'amour, the Silver Bears in Berlin for the films River and The Wayward Cloud, also the FIPRESCI Prize in Cannes for The Hole. His films are often guests at the Era New Horizons IFF.


Filmography:
1989 Endless Love (TV)
1989 Hai jiao tian ya / All the Corners of the World (TV)
1991 Gei wo yi ge jia / Give Me a Home (TV)
1991 Xiao hai / Boys (TV)
1992 Qing shao nian nuo zha / Rebels of the Neon God
1994 Ai qing wan sui / Vive l'amour
1995 Wo xin renshi de pengyou / My New Friends (TV)
1997 He liu / The River
1998 Dong / The Hole
2001 Yu sheng dui hua / A Conversation with God (short)
2001 Ni na bian ji dian / What Time Is It There?
2002 Tian qiao bu jian le / The Skywalk Is Gone (short)
2003 Bu san / Good bye, Dragon Inn
2003 He shang de yue guang / Moonlight on the River (short)
2005 Wo de chou xia hai / My Stinking Kid (medium)
2005 Tian bian yi duo yun / The Wayward Cloud
2006 Hei yan quan / I Don't Want to Sleep Alone
2007 Chacun son cinéma / To Each His Own Cinema (co-dir.)
2009 Visages / Face