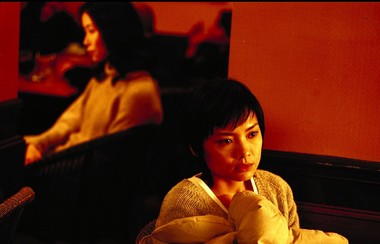 Smashed Worlds, Adjacent Worlds.
On the structure of Tsai Ming-Liang's films.
On the streets one afternoon, I came across this young man sitting quietly on a motorbike, and I asked him whether he would be interested in auditioning for my TV show. And, true to form, Hsiao Kang actually took a long time to reply. He didn't say a word. He just waited and waited and waited, until finally, he said, "Okay. Here's my telephone number." (...) I realized that his rhythm was a little strange, just a little bit slower than everybody else's. When he interacts with another performer, it's not as if he's not reacting to what they do, but it just takes slightly longer for his reaction to register.[1]
Maybe this slower rhythm of Lee Kang-sheng, Tsai Ming-Liang's favourite actor explains somehow the peculiar structure and speed of the director's films. The films in which the traditional plot loses its meaning and in which the centre of gravity is shifted from the feature-style logic of reasons and results to completely different areas. Tsai doesn't focus on telling stories, he doesn't cumulate impressive situations. He doesn't draw his spectator's hand - he rather throws his audience into a reality, which is spiritual and metaphysical and yet very physical and bodily. Tsai watches reality carefully: in its everyday and trivial form; in long shots we observe his characters eat, wash, rest, wander in the city. But both the trivial aspects of existence and the placement of characters in very specific space (even if it is purposefully made to seem unreal) pushes the actual sense of these films beyond the physical and material. This 'beyond' is the characters' spirituality, their inner world, a complicated image of suppressed emotions.
No spectacularity
My question is: is film really only about storytelling? Couldn't film have other kinds of functions? (...) Of course my films have something like a story. But I direct my attention to daily life and living. In our own lives there's no story, each day is filled with repetition. Movies today feel like in their two hours they have to tell a story so they're filled with indexes and indicators to point to the completion of a story. The audience has gotten used to it. I think film can be more than just that. I believe that the stories of my films can all be told in two sentences. (...) I'm trying to remove the dramatic elements from the story to disguise it. Film and reality are different, but by removing that kind of artificial dramatic element, I believe that I'm bringing them closer.[2]
This is true, the lack of spectacularity - which Tsai believes is typical of everyday life - structures the world presented in his films. Hsiao-kang, his mother and father are usually shown in situations devoid of any momentum, and this style is enhanced by long shots, so characteristic of this director. Motionless but tender observation of characters eating, ironing, walking slowly in the city maze provides basic information about the characters and introduces us into their privacy. But intimacy - even related to sexuality - does not reveal anything unusual, it is not spectacular either. When in the Rebels of the Neon God Ah Tze is masturbating, eavesdropping on a couple making love next door, or when in The River Hsiao-kang's father goes to a Japanese sauna to find a lover, there's nothing sensational or pornographic in these scenes. This is enough to evoke spectators' emotions. Emotions related not to what you are watching, but with what you can read in the characters' experience, what you can learn from observing the characters, an observation undisturbed by any dramatic (or dramatising) intervention.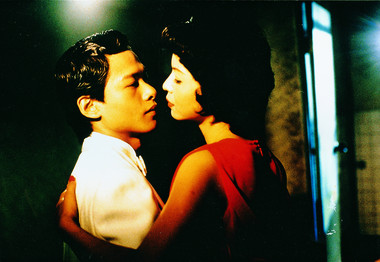 The Hole, dir. Tsai Ming-Liang
But in Tsai's films there is also hyper-spectacularity present: the trivial realism of everyday life is interrupted by hyper-intervention, by a show. This is what happens in The Hole, where the silent observation of two lonely neighbours getting slowly closer to each other thanks to a hole in his floor/her ceiling is intertwined with musical shows with songs by Grace Chang, Tsai Ming-Liang's favourite singer. In The Wayward Cloud these musically-styled additions become the structuring principle of the entire film. Hyper-spectacular moments do not involve the spectator more in the plot - not at all, the spectators are rather knocked out of the film's rhythm, they find distance in seeing that the realist convention called by Tsai drawing reality and life closer to each other is actually pseudo-realist. Realism draws the audience inside the film world, helping spectators get used to it. But the world shown in Tsai's world keeps us outside somehow, doesn't let us get closer or accustomed to it.

---
Tsai's characters are isolated in closed spaces of their own tragedies, but these spaces are semi-transparent. The characters live next to each other, observe each other, desire each other and follow each other constantly (physically or in thoughts). They coexist, but very often they are - or one of them is - unaware of this fact. This is one of the most characteristic recurring motifs of Tsai's cinema, clearly visible in his films' structure. In the Rebels of the Neon God Hsiao-kang follows Ah Tze like a shadow. A night spent in the same hotel, in an identical room is a substitute for a meeting he cannot hope for. In Vive l'amour Ah-jung and Hsiao-kang live secretly in the same spaces. In The Hole the characters' worlds are separated by the floor/ceiling, but this hermetic division is interrupted by the hole, which is a link between the two desperately lonely people. In What Time Is It Over There? Hsiao-kang, who sells watches in the street, compulsively sets all watches to Parisian time and watches The 400 Blows by Truffaut - just because the girl he sold a watch to went to Paris. In this film duplicity is multiplied: the world of the deceased father coexists with the world of the mourning mother and Jean-Pierre Léaud, watched as a boy in The 400 Blows appears at a cemetery in Paris in modern times.
Duplicity is visible also in distinct separation of what a classical spectator could regard as a plot from what we can directly see. In Tsai's films screens are often shown - TV or cinema - where the really spectacular things are going on. The most apparent example of separation of the spectacular and the trivial which is available, is presented in Good Bye, Dragon Inn. This most static film by Tsai is set in an old cinema to be closed soon. The audience in the hall is watching the classical Dragon Inn by King Hu of 1966, but we cannot see the screen. We can see the hall, we can hear the sounds of fighting on screen, but the show itself is invisible, our eyes are focused on something else.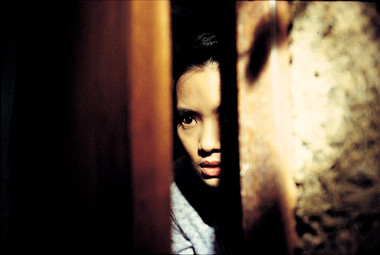 Goodbye, Dragon Inn, dir. Tsai Ming-Liang
Smashed space, limited space
Tsai Ming-liang likes repetitive, closed spaces. The same flat shown in the Rebels of the Neon God, The River and What Time Is It Over There? becomes a recognisable stage on which the family's internal tragedies are set: not exactly a physical space, but rather a metaphor, a mental space of the family, a field of psychoanalysis, revealing the complexity of relationships between the alienated and estranged characters which are so closely related to each other. Other closed spaces are the characters' flats (in the Rebels of the Neon God, The Hole, The Wayward Cloud), columbaria (The River, Vive l'amour), empty, uninhibited flats (Vive l'amour), uncomfortable hotel rooms (Rebels of the Neon God) and semi-demolished concrete buildings and structures with long, cold corridors (The Hole, I Don't Want to Sleep Alone). These confined spaces are an excellent reflection of the characters' isolation and their attitudes towards the world and towards people. On the one hand, it is a restriction; on the other it is very safe. Maybe I am always in search of a small confined space like this. I very much like to use them in my films. I like to film in hotel rooms, in elevators or on moving staircases. What counts is that the space itself is very clearly divided from the rest of the world. This might have to do with the subconscious. I do not like to have too many eyes focussed on me. And I cannot feel safe until I have excluded these eyes. This means I have to create boundaries. In my work I can do this.[3]
---
[3] Nanouk Leopold, Confined Space - Interview with Tsai Ming-Liang, http://archive.sensesofcinema.com/contents/02/20/tsai_interview.html.

2.
But it doesn't mean that whenever Tsai takes his camera to the city, the characters are incorporated in the surrounding world, united with it. They remain isolated. This is so mainly because the director divides open space into fragments and - like Antonioni - he selects locations which accentuate the characters' emotional condition and not counterpoints. Tsai Ming-Liang's Taipei is a labyrinth of undefined places, with no individual or characteristic features. Underpasses, overpasses, crossroads and city arteries are unfriendly for the characters, but they are hard to combine into a consistent urban organism as well.
Tsai's films are silent, like his characters, and yet the structure and frames reveal more (or maybe more distinctly) than could be revealed by any traditionally structured film with dense, expressive dialogues. The point is that this artist does not want to tell fascinating stories, he prefers to create situations which evolve in all directions during the film, to reflect the ever-intensifying and mutating inner states. Even if the plot's 'attractiveness' is lost (Tsai Ming-Liang once said in an interview: people may fall asleep with my movies; but, when I see kung-fu movies, I fall asleep as well[4]). This type of 'attractiveness' is replaced by something new: the flat, silent surface of these films turns out to be their depth. If the spectator resolves to go beyond the observation of the external world - or rather to use this observation to read topography of the world inside - they can feel equally satisfied. And Tsai's films, developed one upon another, will allow such spectator to enter the complex and yet understandable internal reality of the character.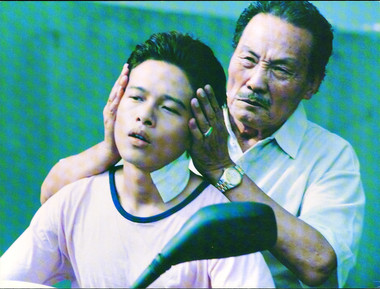 The River, dir. Tsai Ming-Liang
The singular form is not a mistake - after all, in this director's films we are always watching the same character (Hsiao-kang) and situations depicted in particular works combine into a uniquely complex and deep portrait of a single man, whether this is Hsiao-kang (meaning Lee Kang-sheng) or Tsai himself for whom the character is probably an alter ego. When the director says that he likes films by François Truffaut, because the French artist created a world of his own which he kept filming, one can have a strong impression that the same words can be used to describe Tsai himself. When the director says that he is glad that Lee Kang-sheng played in each of his films, because this gave him an opportunity to watch the actor grow up and change while aging, we can think that the subsequent films are not only about a fictitious internal conflict of a fictitious isolated character, but that they become a personal, almost documentary recording of a life of a quite real person.
European cinema
In discussions about Tsai's film inspirations, European artists are usually mentioned, especially Michelangelo Antonioni, Rainer Werner Fassbinder and the French New Wave. The director himself has often declared that European cinematography showed him the path of his artistic search, that somehow it was an antidote for the American productions Tsai grew up with. His narrative strategies refer to such filmmakers as Antonioni or Fassbinder and this is why they are so distinctly distanced from the classical Hollywood model of cinema (while in the mode of treatment and guidance of actors the Taiwanese followed patterns elaborated by Robert Bresson).
The structure of Tsai Ming-Liang's films is based on mental situations and the symbols which represent them (the most important of them being doubtlessly water). The events' structure seems therefore subjected to the internal landscape, although in the sphere of iconography, Tsai maintains strict realism focused on ordinary aspects of human existence. And from among these persistently and calmly observed everyday situations, long scenes of eating, resting, bathing, walking, there emerges the immaterial world - the real one. Tsai Ming-Liang's stable look gives us a chance to enter another dimension - a dimension of tender observation of internal conflicts which cannot be solved and which are so close to us, even if they affect Hsiao-kang, his mother, his father or Tsai himself, hidden on the other surface of the film.
Karolina Kosińska
Navigator
July-August 2009
Search
for film / director / concert:
Go to the cycle:
SELECT A SECTION